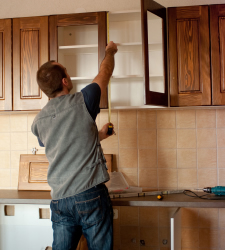 The Parts of a Kitchen Remodeling Project You Can DIY
Every minute on YouTube, about 300 hours of video are uploaded.  
YouTube – the popular video website – has developed over time to become a repository of good videos on any skill of interest.  Thus, it is easier for any Philadelphia homeowner to browse through the website, watch videos on home improvements, and get started with their home improvement projects.  While this is not bad, it is important to note that you cannot take on some aspects of your kitchen upgrades; such aspects are best left for professional Philadelphia contractors.  However, as an amateur, there are certain components you can handle on your own once you are equipped with the right tools and information.
Kitchen Remodel Projects You can DIY
Removing Wallpapers
Once you have ample time and patience, switching wallpapers is not something you cannot handle.  Perhaps, you are not impressed with the current wallpaper in your kitchen; you can do the changing easily on your own.  
Installation of Appliances
Doing this will save you the money you would have given to retailers as cost of fixing these new appliances for you.  Do not buy appliances with dimensions different from the ones you are replacing, it makes their replacement difficult, and you will be faced with such issues as making structural adjustments to your kitchen. However, there are some installations you cannot handle on your own, like conversion from electric to gas cooker.  In instances like this, work with competent professionals to ensure your safety.
Painting the Property
If you get a contractor to do your painting for you, it would be faster.  However, you can save cost significantly by handling it yourself. To get the best result out of your project, it is advisable that you invest in high-quality paints and do extensive prep work. For you investors out there, painting is the number one thing you can do to raise tenant rents.
Flooring
There are some flooring types you can install on your own.  Based on the type of materials being used, some installations are easier to accomplish than others.  For instance, a contracprofessionals are preferred when it comes to the installation of hardwood flooring.  Conversely, vinyl, linoleum, laminate and ceramic tile floor installations are what homeowners can DIY.
Kitchen Remodeling Projects You Should Leave For Professionals
Installation of Countertop
Installing new countertops appears quite easy, but in reality, they are technical.  As an amateur, you would most likely find it impossible to accomplish it on your own.  For instance, an individual cannot singlehandedly install a granite. It is weighty enough to cause a crack if it mistakenly drops.  It is best that you allow professionals to handle the measurements involved, to get a perfect job with exact dimensions.
Installation of Cabinets
Installing cabinets requires precise measurements. Thus, it is best left to professionals with the right expertise.  From your point of view, you may think that your home walls and ceilings are plum, square and level, but in reality, they are not of the same measurements.  These flaws can only be adequately concealed by a professional.
Electrical Fittings
If your new kitchen's wiring is left to amateurs, you will not get the best possible delivery, which is dangerous.  From tearing into your drywall to electrocution, house fire and even shorting out of appliances, the consequences of an inadequate wiring system are serious. You can avoid all these by working with a competent electrician.  
As a homeowner, have you ever undertaken DIY projects in your kitchen?  If yes, feel free to share your experiences with us in the comments section below.